Womanizer
---
Regular price
Compare at $119.90
After Code: SALE
Regular price
Compare at $329.90 |
Sale price
Sale $119.90
After Code: SALE
Unit price
per
Ship discreetly & fast from Canadian warehouse
Shipping Costs to Canada
Under $59
Over $59
Canada Post Expedited
Based on Weight
FREE
Canada Post Xpresspost

Based on Weight

Based on

Weight

Canada Post Priority

Based on

Weight

Based on

Weight
Estimated Shipping Times
Ontario and Quebec 1-3 Business Days
Rest of Canada 3-7 Business Days

Earn 5.4 T&F Points (1 Point = $1)
Our reward system has been updated!
Create your account now to get rewards!
Whenever you spend $2, there will be 0.1 credit ($0.1) deposited to your account.
To use the rewards, simple copy the gift code and use it in your next purchase!
Contact us for support if you have any questions!
This product is part of the special 'T&F 3yrs Anniversary Sale'. This is a limited-time promotion, with a limited quantity available. Once sold out, this product link will expire. Act fast to secure your purchase!
Womanizer Premium is now available in two new colors: Blueberry and Raspberry. Which one are you? Discover your new favorite color! Womanizer Premium in our new Blueberry and Raspberry color options, luxurious clitoris vibrator, intimate toy with 12 intensity levels, autopilot and Smart Silence™ Technology.
This is Womanizer's very own innovation. Pleasure Air™ technology offers touchless stimulation through gentle air pressure for your clitoris. The result? Feeling like you're walking on air. Let the gentle vibrations guide you to incredible climaxes.
Feel like a relaxing soak in the tub? And by that we mean, a really, truly relaxing soak? Then grab some candles, your favorite bubble bath and bring your Womanizer Premium too. It is 100% waterproof.
The Womanizer Premium is sensual, slender and ergonomically shaped. It fits perfectly in your palm and is easily maneuvered so you can concentrate solely on your pleasure.
Feel like some quality time? Go ahead! The Womanizer Premium has a battery life of 4 hours – so it is always ready when you are.
The Womanizer Premium is equipped with an autopilot mode. When active, your toy will alternate between 12 intensity levels and keep you on your toes. Sometimes intense, other times gentle – always extraordinary. Thanks to the toy's Smart Silence™ technology, your Premium will only switch on upon contact with your skin. If you need to set it aside for a moment, it won't make any surprise noises. Simply put, you can tune out and focus on yourself.
BE GUIDED BY PLEASURE ​
We invite you to simply lie back and relax. Enjoy the moment with the WOMANIZER Premium and experience the luxury you deserve.​

EXPAND YOUR HORIZONS
Embrace true freedom and simply let go. The WOMANIZER™ Premium will have you asking, "Where have you been all my life?" Autopilot™ will surprise you with its variety of stimulations and intensity levels – all without fumbling around with buttons. You never know what's coming next. It's a new experience every time you use it and the perfect way for you to take things to a whole new level.​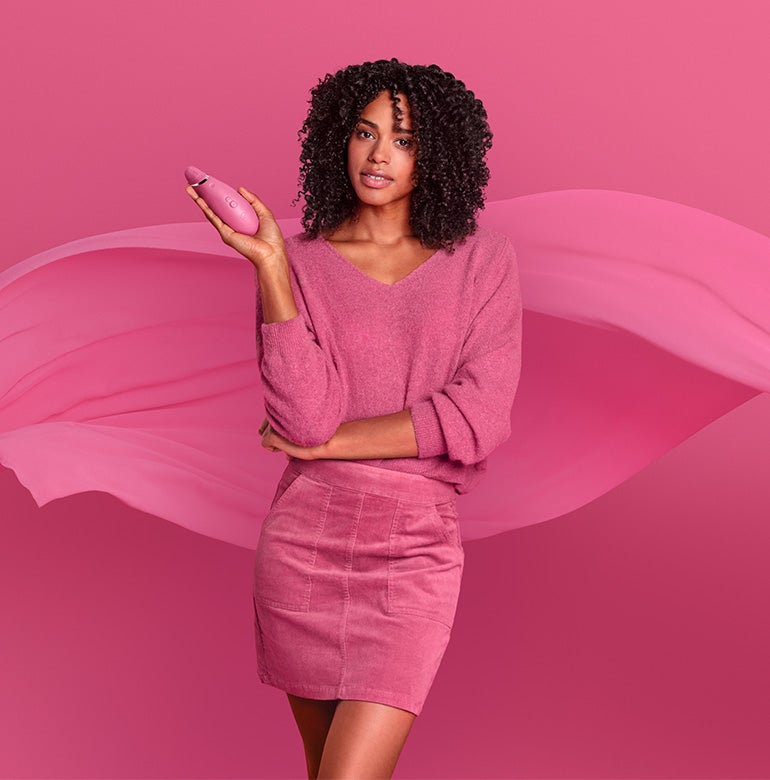 MAGIC WITHOUT DISTRACTION
You switch it on – nothing happens. Don't worry, it's not a mistake. Our innovative Smart Silence™ Technology makes sure Premium doesn't turn on until it almost meets your skin. And it will automatically switch off again when you move it away. This feature makes your entire Premium experience so quiet and smooth that you can just let go and enter your fantasy without any interruptions.​
Nobody will hear it – not even you.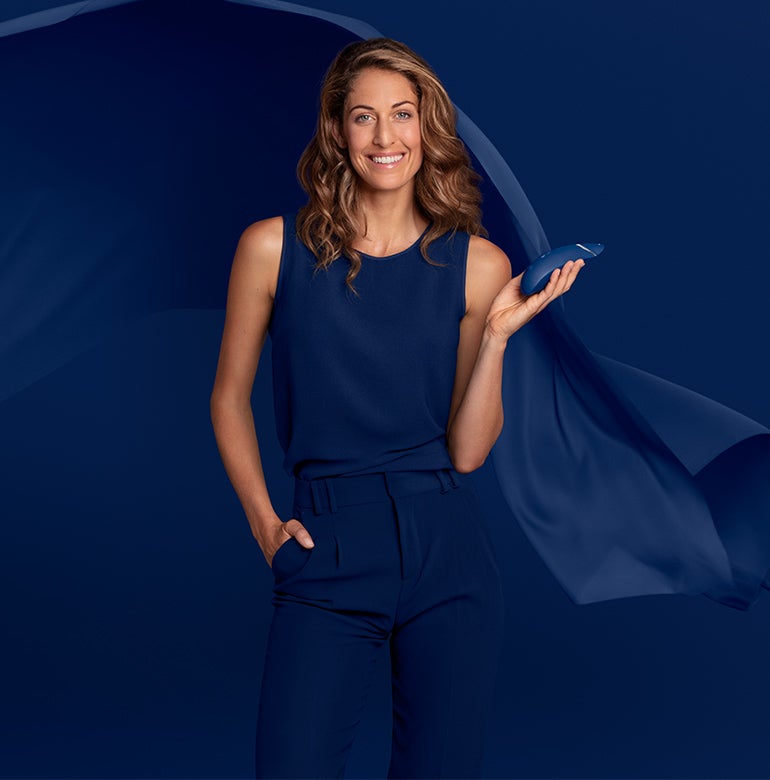 YOUR FAVORITE FEELING
Get ready for an experience you won't be able to put into words. This is something you must feel in order to recognize. But be careful, you might become addicted.​Our revolutionary Pleasure Air™ Technology stimulates your clitoris without touching it. ​It creates a delicate balance of suction and pulsation; unlike any other form of stimulation you've felt before.​​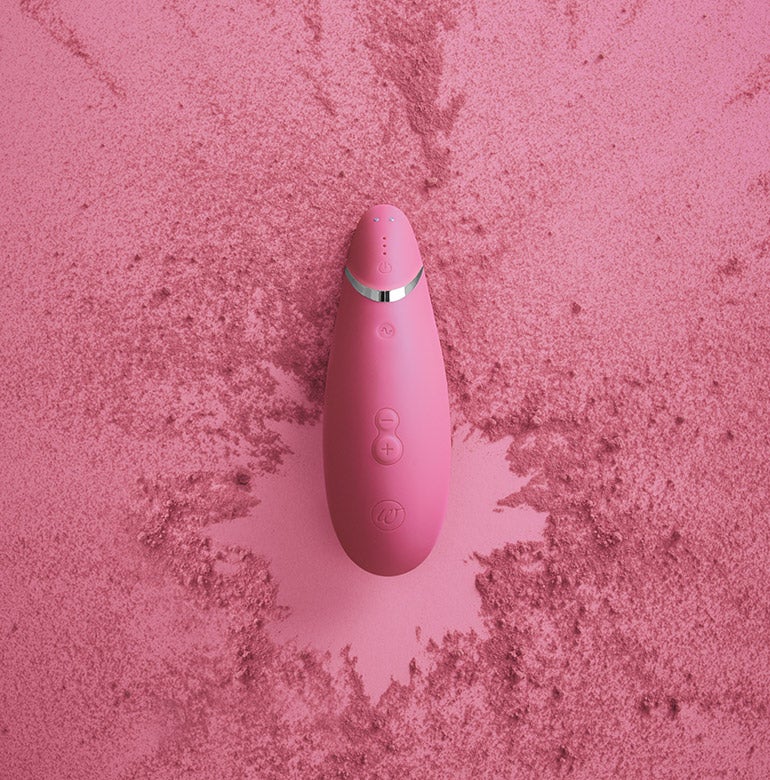 YOU DESERVE THE BEST
"Premium" means highest quality - that's not an empty promise. WOMANIZER™ is the original and has always set the bar for groundbreaking technology. Premium showcases all of our patented technology like Pleasure Air™ and Smart Silence™; features that were created from thorough scientific research and listening to your wants and needs. Our revolutionary technology combined with Autopilot™, 12 intensity levels, and a waterproof body-fit design made from the highest-grade materials make WOMANIZER™ Premium unmatched by any other sex toy.​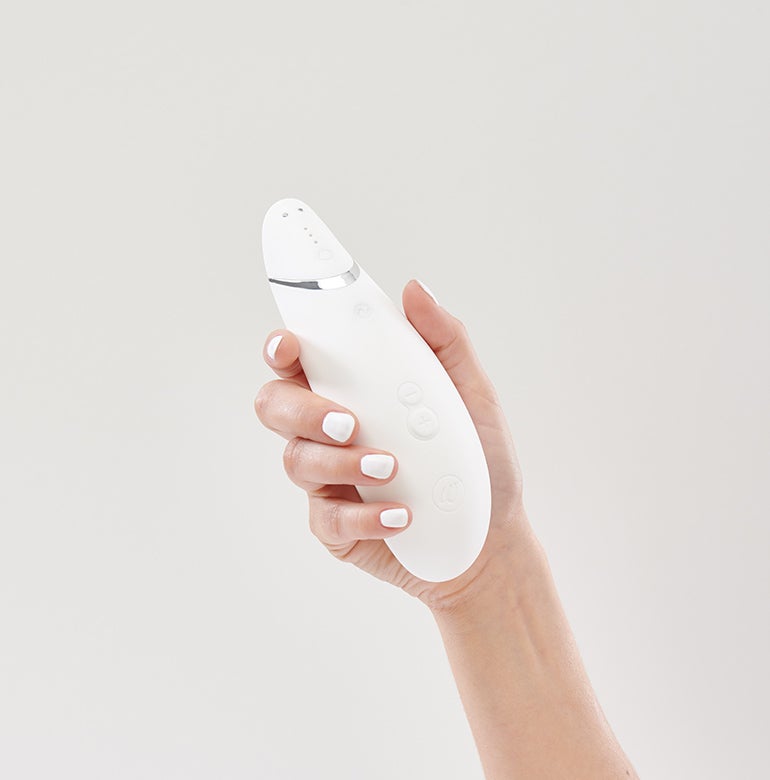 TREAT YOURSELF WITH LUXURY
Womanizer™ Premium has countless exciting and convenient features – it's completely stress-free and intuitive. Take it with you in the shower or bathtub, Premium is 100% waterproof. Discover its elegant and ergonomic design made from high-quality materials that are soft to the touch and easy to clean.​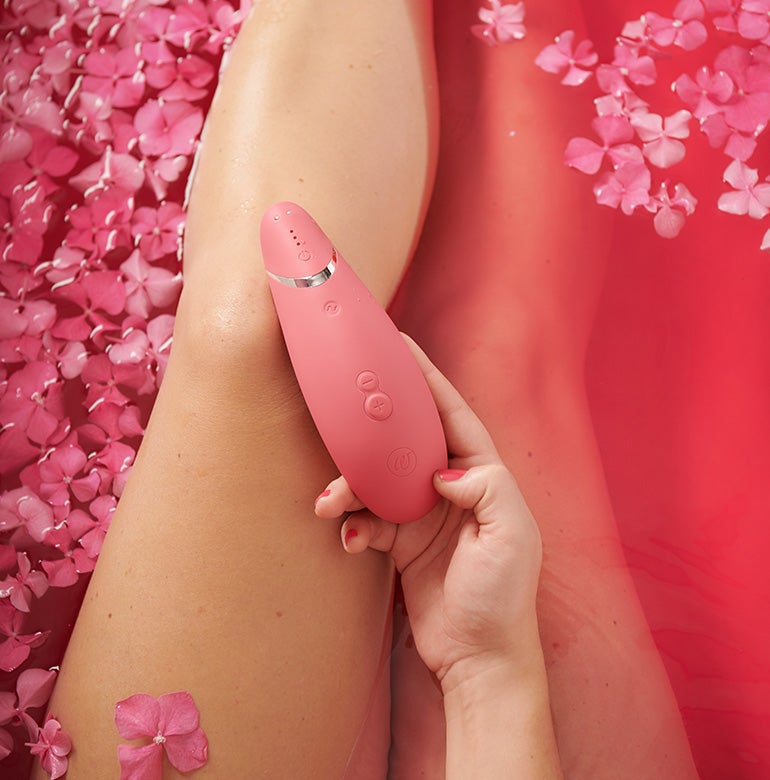 Box includes:​
WOMANIZER Premium with stimulator head attachment​
Additional smaller stimulator head attachment in size S
Magnetic pin USB charging cable (without power supply)
Instruction manual
Satin pouch for storage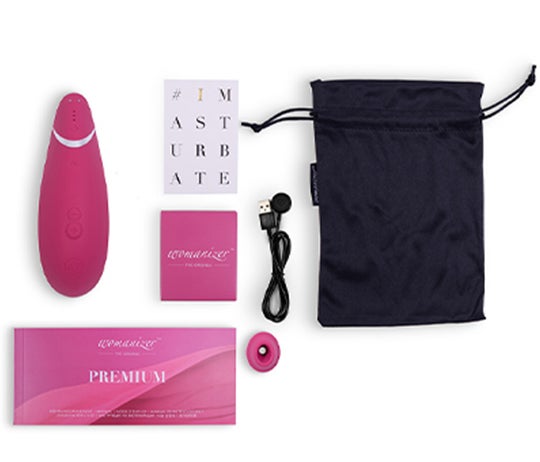 Illustrated, multi-language instruction manual can be downloaded here.
SPECIFICATIONS

Material: Silicone+ABS
Color: Raspberry
Length: 6.5"
Girth: 6.25" at largest point
Width: 2" at largest point
Power Source: USB Rechargeable
Special Features: Hypoallergenic, Multi-Function, Multi-Speed, Non-Phallic, Phthalate Free, Smooth Surface, Temperature Sensitive, Rechargeable, Waterproof
Share
View full details
Shop with Confidence
Discreet Billing

Your credit card statement will show TandF for your privacy and anonymity.

Discreet Shipping Packaging

The only identifying marks are your mailing address and ours.

Secure Online Payments

We are using SSL technology and the credit card is read directly by the bank.